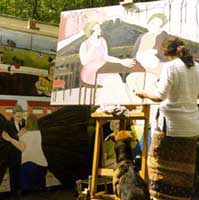 E-mailadres: Hansje Plas
Een nuchtere visie met en dichterlijk accent
Hansje Plas, geboren in de Jordaan, laat zich inspireren door herinneringen.
Mensen, dieren, relaties tussen mensen en tussen mens en dier, vormen de onderwerpen van haar schilderijen. Haar werk kenmerkt zich door een krachtige penseelvoering.
U kunt op de afbeeldingen klikken om verder te gaan.
A plain,down-to-earth perception with a poetic touch
Hansje Plas, dutch painter, has been inspired by her memories.
People, animals, relations between people and between people and animal,
are the subjects of her paintings. She has a strong hand of painting.
Behind the pictures are the pages with her work.